Printing Jamaica
Welcome to Mysticonline – your printing Jamaica elite online source for fast, budget-friendly, quality graphic design and printing!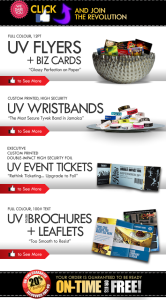 As lots of you already understand, Mysticonline is a sector leader for the printing of promotional paper products in Jamaica. We're likewise Jamaica's # 1 online printing company of UV Coated Flyers and Postcards, with first-class manufacturing centers found in each market. We have actually become world popular when compared to other printing companies in Jamaica for always offering you expertly printed items in full color on both sides with complimentary high-gloss UV coating in 24 hours!
Printing In Jamaica Call Us Today 876-906-3480
In fact, we're already ahead of the pack that our clients list includes retail printers, advertising agencies and design studios in addition to multi-national companies, micro, small and average sized company, clubs, promoters, sporting locations, and small companies … all within in basically every industry you can think of!
We make print buying a snap with amazingly low prices, revolutionary 24 hour manufacturing turn-around, fanatical customer support, Island wide shipping and distribution daily, and hassle-free payment choices offered throughout Jamaica.
In celebration of the numerous variety of satisfied clients serviced, we're offering numerous, irresistible online specials for a restricted time. We welcome you to take advantage of these offers and experience the Mysticonline difference!
As always, we thank you for your loyalty and for making us the first and preferred option for all of your printing requirements! From flyers to door hangers and posters to folders, we have everything you will need to help you build your company's image quickly and advertise yourself further.
Why are your costs so low?
Because we are a "gang run" style print business, we have the ability to provide more competitive rates than our competition. We print all our daily orders on extra-large sheets and cut the jobs apart in order to minimize the costs of making plates and other fixed setup costs. In turn, these reductions are translated into big discounts and cost savings to the customer. Generally, we offer Retail printing at Wholesale rates! And if your job needs unique attention, that's no problem! We can do printing extras such as Perforations, Folding, Scoring, Binding, Die-Cutting, Fifth (and Sixth) Colors, Spot Colors, and more!
 How quick is your turn-around?
For those clients that prefer their tasks to be produced and provided at lightning quick or should we say Usain Bolt speeds, we master this area with our special Same Day 6 hour and 24 hour Turn-around Service strategies. In addition, many of our tasks (94.3% to be exact) are produced and prepared to be delivered or picked up within 24 to 48 hours from receiving the full order (artwork and fee), regardless of if the client has purchased a slower turnaround service.
Want Graphic Design Solutions?
Design is never a problem! With our staff of in-house design specialists, and international network of freelance design partners, we are constantly able to produce imaginative product which reflects your vision and attains your goal.
What else do you print?
Put simply, we print EVERYTHING. A few of our customers utilize our Jamaica printing services for Promotional Brochures, Party Flyers, Restaurant Menus, Realtor Postcards, Tickets, Handbills, Clothes Tags, Company Cards, Posters, Point of Sale Signs, Photo Reproduction, Zen Cards, Direction Booklets, Regular monthly Periodicals, Tri-Folds, CD Inserts, Record Flats, and more!
 How can I send you a Print Project?
Our preferred technique of order submission is via our online system. This approach quickens your order and allows us to begin processing your information right away. Nevertheless, you can similarly email us your artwork or mail your digital media to our corporate workplace. Please keep in mind to always finish and send the necessary order and payment and release forms (inclusive of a credit card transaction permission form, if applicable) when sending artwork, otherwise we will not be able to process your job. If you are not sure of how you can use our online system, you should call us via Live Support, Blackberry Messenger, e-mail or call us and an agent will assist you to get started!
 Exactly what does 24-48 hour turn-around mean?
All complete jobs (art and payment) obtained prior to 8:00 pm EST will have its production/printing completed, and after that be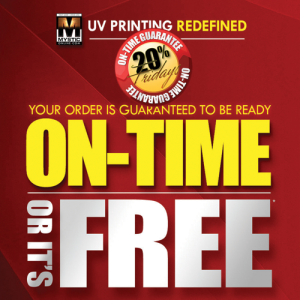 made ready for shipping/delivery, within 24-48 hours (1 to 2 business days) after the date of receipt. For example, if we get your artwork and payment at 5:00 pm EST on Tuesday, printing of your flyers will be finished in between Wednesday evening and Thursday night, and it will thereafter be made ready for shipping/delivery. For a more in-depth description, check out the Turnaround area of our internet site.
Exactly what shipping choices do I have?
We often deliver with Knutsford Express and offer local distribution services within Kingston. Call us and inform us about your budget plan and target dates. We'll do our best to advise you on the most ideal method of shipping to facilitate you getting your item in a cost effective, timely way.
 What repayment options are available?
All print work has to be prepaid. We would prefer Visa, MasterCard and Discover, but likewise accept American Express. We
likewise accept payment by means of Wire Transfer, and Direct Bank Deposit. If you would desire to pay with cash, a check or money order, please see our easily located office in Kingston. Please bear in mind that orders which are paid by check will not begin processing until the check has cleared the bank and the funds have been posted to our account. We also provide credit terms for larger companies that have actually successfully finished our credit application.
Can you print projects that are different sizes than those which you have detailed?
Yes we can! Choose the size closest to your art work when buying. For custom-made orders, please complete our online customized quote request and we'll return to you with an estimate.
How do I order several items?
Place a different order for each piece you want printed. For example, if you want 2 different postcards, then place 2 separate orders. The cost for 5,000 of one flyers is not the same as the rate for 2,500 each of two various flyers. Or, if you choose, you could call us with your order of several products and a representative will happily help.
Exactly what kind of paper do you utilize?
All products are printed on our Standard Thick 10pt/100lb C2S Cover Stock, or our Thicker Premium 12pt C2S Cover stock, with a high-gloss Ultra-Violet (UV) Finish. The majority of products are also offered on our Slimmer 100lb Text Stock paper, upon special request by the consumer or when specifically bought(and available).
How long will it take to get my order delivered to me?
Your order will generally be completed within 1 to 2 business days after it is submitted and paid for, and afterwards delivered. Regardless, it will be finished, at the longest, within the turnaround service ordered, and thereafter delivered. Air freight shipments (e.g. overnight delivery shipments) are usually received on the day after shipping. Ground freight shipments (e.g.: FedEx, Knutzford or DHL ) usually take in between 1 to 5 company days, depending on your distance from our center.
Can I get my order delivered quicker?
Yes! Select a quicker shipping option while purchasing.
What file formats can you take?
We accept any Mac or PC file format. This consists of tiff, jpeg, flattened psd, flattened pdf, and eps formats. If you are submitting an eps file, please ensure that all fonts have actually been transformed to layouts which all images have been embedded prior to submission. In addition, Mac individuals must keep in mind to manually include the file extension to all file names prior to saving and sending their files. Please go to the Specifications on our internet site for comprehensive information on the file formats which we accept.
How do I submit my Art work and exactly what kinds of media do you accept?
We prefer that you upload your order with our FTP File Upload system. You could likewise send your artwork via e-mail, or mail us a Mac or PC CD.
Is there an additional fee for bleeds?
No. Unlike lots of various other companies, all our prices include complete bleeds free of charge. These bleeds (inner) need to be at
least 1/4″ on each edge.
How do I put an order in and have my graphic designer upload my files separately?
Just fill out our Online Order form and in the Job information section, indicate that your files will be submitted via FTP Upload or Email (whichever is applicable). Likewise, add a notation in the "Additional/Detailed Instructions" area that your graphic designer will be uploading your artwork separately. Make certain to include his Name, email, contact numbers) and awaited date and time of file upload in the event that we have any concerns or issues. After that, you can have your designer log onto the FTP File Upload area of our site and send your artwork by means of FTP Upload, or it can also be emailed to transfer@mysticonline.com.
It is crucial that you either show the file name(s) of your art work to be sent throughout your buying procedure, or have your designer indicate, by means of email, the names of the uploaded files and that they represent your order by indicating your name and contact details. Because of the tremendous volume of orders and sent artwork which we receive every day, this step is necessary for us to clearly recognize the graphic files which relate to your order without confusion. If the artwork which represents your order cannot be clearly recognized, it will not be processed, and may result in unnecessary hold-ups.
 How long will it take to upload my files?
Publishing times will differ, dependent on your connection speed. You can inspect the bottom of your browser for a status bar to identify the development of your upload.
For any other concerns that may have not been addressed here, please refer to our Contact section and ask !!  We look forward to serving you.
Printers Jamaica Call Today 876-906-3480

Mysticonline
30-32 Red Hills Road
Suite 1A
Kingston 10, Jamaica
876-906-3480
Montego Bay Jamaica, Negril Jamaica, Mandeville Jamaica, Portland Jamaica, Ocho Rios Jamaica